On a day set aside by God and Hallmark for love, here's a little love of our own for a sharp-minded man:
Glenn Kenny, Some Came Running [80 points/12 votes]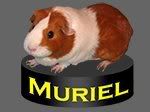 "Did you know that the guy who played the creepy Erotic Connoisseur in
The Girlfriend Experience
moonlights as a film critic? When he's not waiting for casting calls, Glenn Kenny cranks out pointed, autobiographical analyses of film, love notes to his favorite avant-garde musicians and curmudgeonly take-downs of fellow critics over at
Some Came Running
.
I've been reading Kenny since his days at Premiere. One of his first gigs there was editing David Foster Wallace's brilliant David Lynch deconstruction/
Lost Highway
set diary, a piece that redirected my 19 year-old cinephilia and introduced me to DFW. In the decade-plus since, reading Kenny has turned me on to everything from
Rushmore
and
The Headless Woman
to King Crimson's Red, Hatfield and the North, and the Feelies.
Kenny's most noted activity of late has been his ability to cause Biggie/Tupac-style rivalries between himself and, well, just about every other critic. His 2010 New Year's resolution has been to start less beef, but he's already called out Peter Biskind and Jonah Goldberg, so we'll see how long his pledge lasts. I for one hope he brings back the "Armond White-ism of the Week" feature to his weekly Friday column over at the Auteurs. (Kenny also contributes a Tueday Morning Foreign-Region Report to the Auteurs, an indispensible guide to Next-Level Cinephilia).
Brevity is sorely lacking in the blogosphere. One of Kenny's most winsome attributes is the economy of his prose. He's able to squeeze more into three short paragraphs than a lot of film elites cram into monographs. He's humorously autobiographical without feeling self-aggrandizing or self-indulgent. He draws from an expansive base of film knowledge (ranging from the extremely technical to the esoteric and theoretical) but never feels didactic or snobbish (even when commenting on his own perceived elitism).
Glenn Kenny: Come for the excoriation of other film critics, stay for the erudition!
Further Glenn Kenny studies:
- His now-shuttered Premiere blog, In the Company of Glenn (check out
his analysis of the last quarter of NO COUNTRY FOR OLD MEN
).
-
A great interview with Aaron Aradillas
, done around 2005.
- And, a personal favorite,
a succinct photo essay on Cannes marketing.
" - Philip Tatler
Runners-up:
The AV Club
[78/11]
Roger Ebert
[63/11]
The Auteurs
[57/9]
Mike D'Angelo
[45/7]
Click for complete results